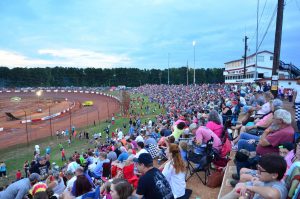 Laid out over 150 acres, Historic Dixie Speedway is a 3/8 mile Clay Oval dirt track, conveniently located 25 miles North of Atlanta, between I-575 and I-75 in Woodstock. More than 1,000,000 square feet of event space and a permanent seating capacity of over 5,000 makes Dixie Speedway one of the most flexible event venues in the state of Georgia. It is home to many film projects and host to more than 30 events every year such as Weekly and National Touring Stock Car Races, Outlaw Sprint Cars, AMA Motorcycles, Monster Truck Nationals, Concerts and more. Dixie Speedway has something happening all season long for everyone.
---
March 7 2023-
Attention Fans and Drivers-We are excited to be on SATURDAY NIGHTS at Rome Speedway for the 2023 Race Season! The first event is the 2023 Season Opening Practice on SATURDAY April 8.
Then a CRUSA Late Models $10,000 to win will kick off the season on SATURDAY night April 15! It's going to be a great night of racing with $2000 to win 602 presented by Dempsey Auto Action
$1000 to win Open Wheel Modified presented by Cantrell Pallets
$1000 to win Econo Bomber
$1000 to win Stinger
Be sure to mark you calendar now for the following special events at ROME SPEEDWAY
ROME SPEEDWAY-
Rome Speedway- SATURDAY NIGHT May 6 – $10,000 to win Schaeffer's Oil Spring Nationals + Full Race program
Rome Speedway- SATURDAY NIGHT-June 24- The Red Clay Series $5000 to win, FIREWORKS + Full Race Program
Rome Speedway-SATURDAY NIGHT July 15- First Time Ever-USCS Sprint Cars + Full Race Program
Watch for remaining schedule updates for Rome Speedway soon.
ROME SPEEDWAY information will be posted here on the Dixie site until the new Rome Speedway website is completed in April
At this time The Red Clay At Woodstock's Historic Dixie Speedway will remain on pause for 2023. Updates will be posted as they become available.